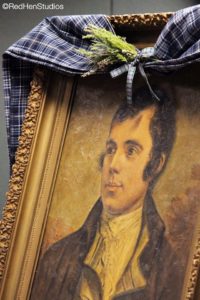 Please join us for the celebration of the life of Robert Burns — Scotland's national treasure — at our Burns Supper on Saturday, Jan. 28, 2023. The Supper and its associated fellowship will warm the Capital District Celtic Cultural Association's Celtic Hall with warmth and light in the middle of a cold winter.
Tickets are $50 per person and $450 for a table of 10.
We've closed online ticketing for the 2023 dinner.
For more information, please call the Hall at 518-250-5890.
Our celebration commemorates the life of Burns and the heritage of Scotland with song, traditional food, drink, music and dance.
The doors open at 5:30 pm, and the evening will start with drinks, individual pipers playing and then traditional music. From there, we celebrate with the "Address to the Haggis" and have a short poetry reading of one of the bard's poems.
See the Facebook event here: https://www.facebook.com/events/890700315278457
Then dinner, and performances by pipers, the Braemar Highland Dancers, followed by dessert and coffee and another musical set.