November's show will feature HellCat Maggie on Saturday, Nov. 9!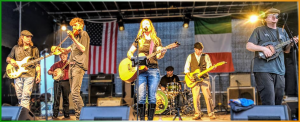 HellCat Maggie is a high energy Celtic rock ensemble and they feature a wide range of Irish/Celtic/rock music.
The group has seven seasoned musicians playing an array of instruments including fiddle, highland pipes, banjo, tin whistle and mandolin, all supported with a full rock back-line.
The event is November 9, and you can purchase tickets by clicking the link below. The doors open at 5:30 PM, and food and beer/wine/cider will be available. The show starts at 7:30.
Tickets are $15 in advance (up to a week before the show) and will cost $20 at the door — 12 and under will be admitted free.